Study Abroad in New Zealand for FREE? Sign me up!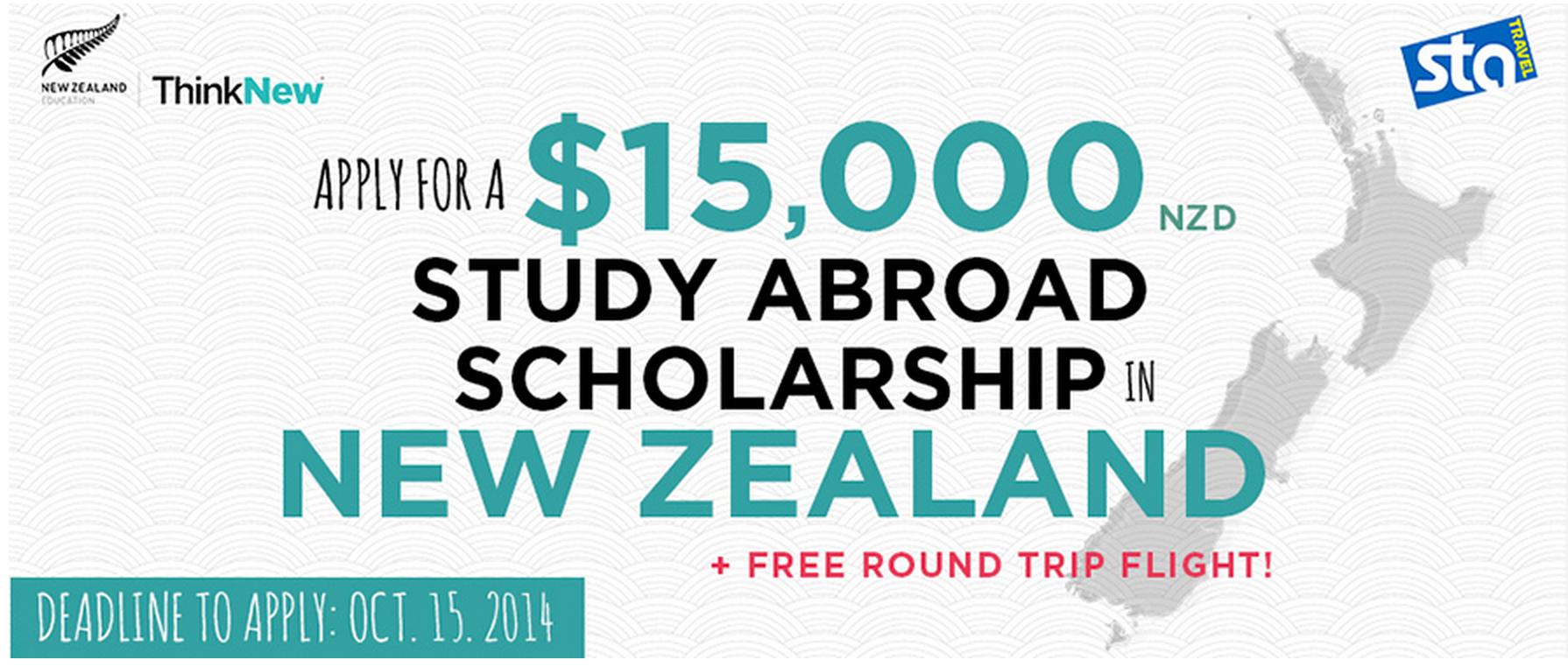 New Zealand Education and GoOverseas have launched a one of a kind scholarship program to send a US student to study abroad in NZ for FREE. Yep. Free. I didn't believe it either.  So I asked Sam Hoben from New Zealand Education to share some insider info about the scholarship program. There's just one day left to apply - and if this interview doesn't make you want to get your application in nothing will. Here's what Sam had to say... 
Tell me about this study abroad scholarship for New Zealand? Is it really a full scholarship? What's the catch? ;)
The only real catch is that there can be only one grand winner, and we're on track for at least 1,000 applications. There's already been some amazingly creative entries, and it's going to be real hard to decide on the winner. We should also say that the scholarship has an upper limit of NZ$15,000 (roughly US$12,000), and depending on the program chosen, the winner may need to cover marginal costs over and above this.
This is a very unique scholarship. What made you want to offer a scholarship program with Go Overseas?
First and foremost, it offered us the opportunity to make one student's dream come true. A full scholarship is significant for students and we're incredibly excited to welcome a very lucky student to New Zealand. At the same time, this allows us to increase the visibility of New Zealand as a fantastic study abroad destination.
A number of factors came together to make it happen. Like so much in life, international education is all about relationships, and Mitch Gordon came to New Zealand to meet with our universities and us at Education New Zealand. We then knew who he was when he discussed the idea with us at NAFSA in May. The numbers looked good, the concept was fresh, and, importantly, the Go Overseas website had an uncluttered, pleasing aesthetic that was easy to navigate, even for a tech-challenged guy like me. We still didn't know a lot about GoOverseas, but when we asked around the feedback was all very positive. Finally, we are going to be able to measure quite accurately how effective the promotion is, all of which made the decision to proceed quite straightforward.
How has the promotion gone so far?
Nothing short of fabulous. The numbers are through the roof, so GoOverseas clearly have the contacts and channels to make this work. With all the will in the world, we could not have replicated those assets. It's also a lot of fun - I guarantee the entries will bring a real smile to people's faces. And without wanting this to be a puff-peice for Go Overseas, they've been an absolute pleasure to work with. They're a small, tight-knit team that mix creativity with online smarts, and they clearly love what they do. What could have been a painful collaboration across multiple time zones has been anything but.
From your perspective (understanding you are clearly biased!) why do you think students should Study Abroad in New Zealand over other destinations?
I won't try to argue that New Zealand is better than anywhere else - there are wonderful study abroad experiences to be had in every corner of the globe, and American students are truly blessed to have such opportunities during their undergrad degrees. But why New Zealand... visitors are always amazed at the variety and beauty of landscapes that are packed into a area a bit over half the size of California. We have sophisticated modern cities (and some that are not all that exciting, but that's nice too!), and wilderness areas to rival the Sierras and Rockies. It's safe and easy to get around, and study abroad students leave feeling they've really seen the country. New Zealand is a vibrant multicultural society, in which the indigenous Maori people have a prominent place. New Zealanders take their democratic rights seriously - people speak their mind and expect to be treated fairly and equally. We also have a strong sporting scene, with high levels of participation – international students have the opportunity to play in weekend sports leagues that cater to the semi-pro to the strictly recreational. And if none of that appeals, students will find world class institutions in which the academics will more than measure up to what students are used to back home.
Finally, I should add that New Zealanders (or kiwis, as we are known) are renowned for being friendly and welcoming. We know how far visitors have travelled to reach New Zealand, and want them to feel right at home.
What are some of the barriers for students trying to study abroad in NZ?
There's no denying it's a long way away and smack in the middle of the southern ocean, and students may feel a long way away from friends and loved ones. The relatively high up-front travel costs associated with this are what we've sought to address with our ENZ travel awards, developed in partnership with the Institute of International Education's Generation Study abroad initiative. And our accents can take a bit of deciphering. But apart from that, it's really pretty easy - most campuses offer multiple New Zealand options, be this through exchange agreements or the excellent providers out there.
Some students might be unsure if New Zealand is the right destination for them. Can you share some resources on New Zealand that can help students make a more informed decision?
Here's a selection of links to help students decide:
Here's a Tourism NZ videos that can't fail to excite...
How can students make themselves more attractive when applying for this scholarship?
The great thing about this scholarship is that it's not about ticking all the boxes. It's about articulating what the opportunity means to you, why you deserve it, and letting your creativity flow! The entries have been particularly creative and we'd encourage all students to tap into their creative side when completing the application. Don't be shy about letting us know why you're excited about studying abroad in New Zealand.